Veterinary acupuncture can complement other medical therapies and treatments for cats and dogs.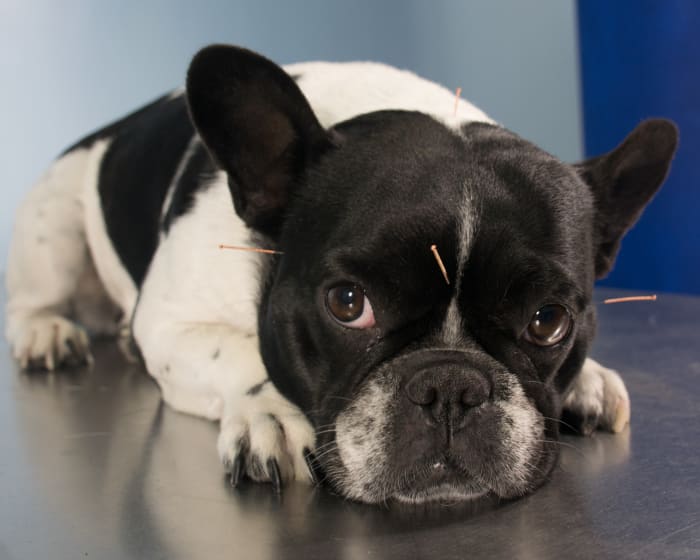 Pet Acupuncture for Cats & Dogs in Westport
Veterinary acupuncture is the insertion of small, thin needles into specific points of the body in order to cause a healing effect. As with people, pets have key acupuncture points which can be treated in order to help your pet feel more comfortable, improving their overall quality of life.
Veterinary acupuncture can be combined with other treatments to treat a number of conditions in dogs and cats, including: arthritis, seizures, skin conditions, GI disorders, and many other chronic conditions.
Laser Acupuncture
Laser Acupuncture is the most commonly used technique at Poster Veterinary Associates. Low energy laser beams are used instead of the traditional needles, to stimulate the acupuncture points. A beam of light from the laser unit is aimed at the acupuncture point and held there for a calculated amount of time. Pet patients are more accepting of this technique as it is non-invasive.
The Acupuncture Process
Veterinary acupuncture needles are very thin, and typically inserted into points on your pet's body that are not painful - meaning that most cats and dogs will accept acupuncture treatment calmly without any panic or discomfort.
The needles are inserted into specific key spots on your pet's body then left in place for between 10 - 30 minutes, depending on your pet's issue and the desired effect of the acupuncture treatment.
If your pet is receiving electroacupuncture, a mild electric current is passed through the needles in order to intensify the treatment.
Your Westport veterinary acupuncturist will provide after-treatment care instructions. In most cases your pet will simply continue with their regular medication, feeding and exercise routines.
What to Expect Following Pet Acupuncture
Dogs and cats being treated with acupuncture often become very relaxed or sleepy during the treatment. This state of calm relaxation may continue for the rest of the day, with some pets even becoming mildly euphoric.
Treatment results differ from one pet to another depending on their overall health condition and whether it was their first acupuncture treatment.
Mild Stiffness or Discomfort

For the first day or two following treatment, your pet may seem stiff or uncomfortable. With rest, this should quickly improve.

If your dog or cat seems a little sore following treatment, let your vet know so that future treatments can be adjusted accordingly.

No Change

In some cases, no change can be seen in your pet's overall condition. Some animals can take up to 4 treatments for improvements to be noticeable, although some animals do not respond to acupuncture at all.

Improvement

Within a few days of treatment, an improvement in your pet's condition may be seen. Your pet's improved condition may not last until the next treatment, but this is normal for animals who are new to acupuncture.