We perform routine and non-routine vet surgery on cats and dogs in Westport.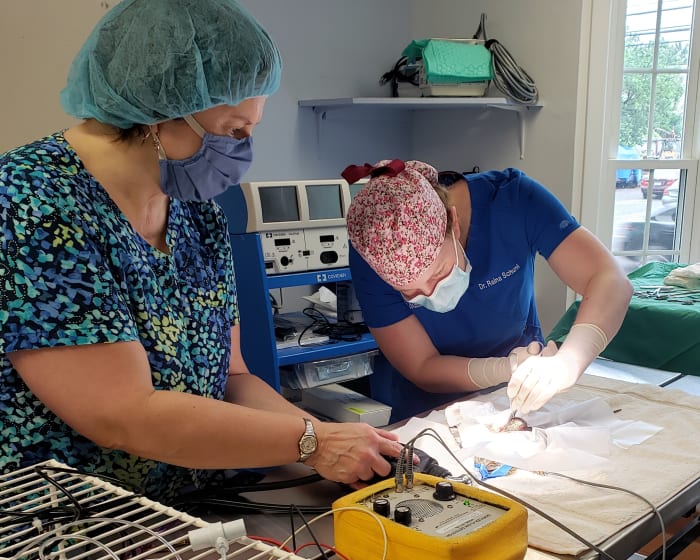 Surgical Veterinary Services
At Westport Veterinary Associates, our veterinarians are highly skilled in performing surgeries and make every effort to ensure that your pet receives the very best veterinary care.
Our focus is on patient safety, pain management, and using the most current surgical practices in a sterile environment.
We'll take exceptional care to ensure a safe and complete recovery for your pet.
What to Expect with Surgery
Our staff of compassionate, caring professionals will monitor your pet before, during and after surgery.
Every surgical procedure includes continuous patient monitoring and pain management. We also provide post-operative monitoring and pain management. 
When your pet is ready to go home, we will review your post-operative care and medication instructions. Our team welcomes your questions, and we will do all we can to help your pet recover fully. 
Surgery FAQs
Read the answers to our most frequently asked questions about surgical procedures at Westport Veterinary Associates. 
What happens during a surgical consultation?
During the surgical consultation, we will perform a physical exam and review your pet's medical history. Blood work, and any other diagnostic tests that are needed to determine the nature of your pet's condition will also be undertaken at this time.
Diagnostics may include x-rays or ultrasounds. Once the results are back, a plan for surgery is developed and discussed with you.
Will surgery take place on the same day as a consultation?
No. The consultation appointment is required for testing and examination, to determine the nature of your pet's health problem. Once any diagnostic test results have come back from our lab, a surgery appointment can be scheduled.
How long will surgery take?
Surgery length can vary, depending on the type of surgery being performed and on your pet's specific condition.
Does my pet have to stay overnight before or after surgery?
Depending on the time of day that the surgery is scheduled, it may be necessary to drop your pet off the night before.
Many of our patients need to stay with us overnight after surgery so that we can monitor them as they recover. Depending on the type of surgery that is performed and how quickly they recover after anesthesia and surgery, your pet may be able to go home on the same day.
Surgical Procedures
At our Westport veterinary hospital, we routinely perform the following elective and non-elective surgeries:
Soft Tissue Surgery
We offer soft tissue surgical procedures for Fairfield County pets suffering from ear, nose, and throat disorders, as well as cardiothoracic, hepatic, gastrointestinal, urogenital, skin, and oncological disorders.
Ocular Surgery
Our Westport vets can perform eye enucleation when the eye is causing pain, or with significant trauma where the eye cannot be saved.
Spaying & Neutering
Cats and dogs are surgically sterilized by either spaying (female) or neutering (male). These procedures help to prevent disease and provide your pets with an extended life expectancy.
Dental Surgery
Our Westport vets offer oral surgery for dogs and cats.