What is hypothyroidism in dogs?
The thyroid gland is located near the top of your dog's neck and produces a hormone called thyroxine, which controls the metabolism (the process of transforming food into fuel).
If the thyroid either becomes overactive (hyperthyroidism) or under-active (hypothyroidism), issues can occur and cause symptoms ranging from chronic or recurring skin infections to weight gain, lack of coordination and infertility - all of whicn can have significant negative impact on his or her quality of life.
When dogs suffer from hypothyroidism, this means that not enough thyroxine is being produced by the thyroid to allow the body to maintain a normal, healthy metabolism.
In dogs, one of two diseases most often cause hypothyroidism: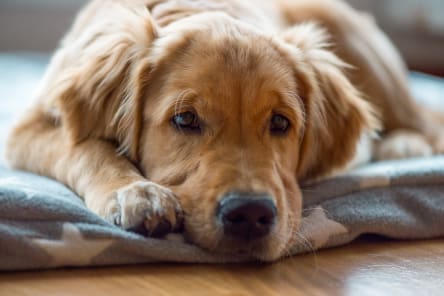 Lymphocytic Thyroiditis
An immune-related disease is widely believed to be the most common cause of hypothyroidism in dogs. This would mean your dog's immune system sees the thyroid as foreign or abnormal and starts to attack it. Though this condition is not well understood, genetics are believed to be a contributing factor. 
Idiopathic Thyroid Gland Atrophy
This condition happens when the normal thyroid tissue in your dog's body is replaced by fat tissue.
While hypothyroidism can impact any breed, it's most often spotted in medium to large breeds such as golden retrievers, dachshunds, Irish setters, doberman pinschers and cocker spaniels, between 4 to 10 years of age. Spayed females and neutered males are also at increased risk to develop hypothyroidism, though the reason is unclear.
What are the most common signs and symptoms of hypothyroidism in dogs?
An insufficient amount of the thyroid hormone in the bloodstream sets off a number of changes in your pup's body. Because thyroid hormones are responsible for maintaining a dog's normal metabolism, a healthy immune system and normal tissue repair levels.
These are common symptoms of hypothyroidism in dogs:
Darkening of skin
Skin infections that do not clear up
Inability to tolerate cold temperatures
Scabs or sores on skin
Recurring or repeated superficial skin infections
Weight gain without increased appetite
Ear infections
Excess shedding or scaling
Excessive dandruff
Black patches on skin
Decrease in physical activity
Miscarriage or lack of heat periods in females
Infertility in male dogs
Drooping facial muscles
Lack of coordination
Dull or rough coat
Fatty deposits in eyes
Head tilt
Itchy or flaky skin
Thinning fur
Toenail infections
As you can see, hypothyroidism in dogs can appear as a range of frustrating symptoms that by themselves or especially in combination, can be distressing to both you and your dog and reduce quality of life for your pet. Fortunately, these symptoms are treatable. See our next post for information on how your vet and diagnose and treat the condition.
Note: The advice provided in this post is intended for informational purposes and does not constitute medical advice regarding pets. For an accurate diagnosis of your pet's condition, please make an appointment with your vet.
Do you suspect your dog is suffering from hypothyroidism or another health condition? Staff at Westport Veterinary Associates are equipped to diagnose and treat many illnesses and conditions. Book an appointment today.