Thanks to vaccines, we can prevent numerous diseases in dogs and puppies. This makes vaccination schedules an essential component of their long-term healthcare. Learn which shots your puppy or dog needs, and when they'll require them, in this post.
---
The Importance of Vaccinations
Vaccinations have a critical role to play in your dog's preventive healthcare. You can provide your dog with the best chance to enjoy a long, healthy life by making sure they are vaccinated on schedule early in life.
Diseases such as Bordetella, rabies and Lyme can turn very serious, even fatal, especially for puppies. Vaccines prevent these diseases from developing in the first place - which is always safer and preferable than trying to treat them once your pet has become infected.
While pet vaccines aren't 100% effective, they can help fight of illnesses that may afflict your pet. They can also help an animal recover much more quickly if an infection does occur.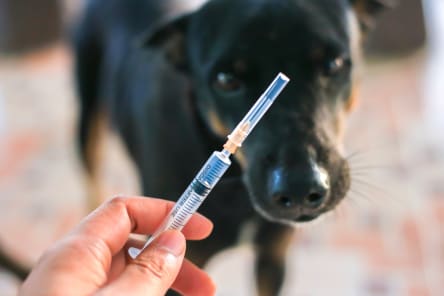 What shots do dogs and puppies need? 
Puppy Vaccination Schedule
6 - 8 Weeks
*DHPP Shot 1
Bordetella
Leptospira
Lyme
Influenza Virus-H3N8
Influenza Virus-H3N2
10 - 12 Weeks
Influenza Virus-H3N8
Influenza Virus-H3N2
DHPP Shot 2
Leptospira
Lyme
Rabies
14 - 16 Weeks
Adult Dog Vaccination Schedule
Annually
Bordetella
Leptospira
Lyme
Rabies
Influenza Virus-H3N8
Influenza Virus-H3N2
Every 3 Years
*DHPP: this vaccine protects against Distemper, Adenovirus, Parainfluenza, and Parvovirus.
Age Restrictions
Very young puppies and geriatric dogs with compromised immune systems are not eligible for all shots. Talk to your vet to learn more about vaccines for your dog.
Note: The advice provided in this post is intended for informational purposes and does not constitute medical advice regarding pets. For an accurate diagnosis of your pet's condition, please make an appointment with your vet.
Is it time for your dog or puppy's vaccinations? Contact Poster Veterinary Associates to book an appointment. Our vets can explain your pet's preventive care needs, and how vaccines can help your pet live a long, happy and healthy life.